Now blundering through its seventh catastrophic year at London's Duchess Theatre, The Play That Goes Wrong is guaranteed to leave you aching with laughter! The show has been postponed.
You all know the classic whodunnit story, there has been a murder at a country manor and an inspector is set on the case to find who the culprit is. However, when this plot is given to the accident-prone thespians, The Cornley Polytechnic Drama Society, everything that can go wrong… does!
The actors and crew battle against all odds to make it through to their final curtain call, with hilarious consequences! Do you ever find out who murdered Charles Haversham? You'll have to see for yourself!
The extraordinary Mischief have literally conquered the globe in the past seven years. The Play That Goes Wrong has performed on every continent except the Antarctic (for fear of a chilly reception!). It has run successfully on Broadway, Off Broadway, across the US, around the UK, down under in Australia and from Buenos Aires to Shanghai with all places in between. They have been invited to perform on The Royal Variety Show, at the Olivier Awards, on the US chat show with Jimmy Fallon and for Prince Charles 70th Birthday at the London Palladium. For their latest theatre project Magic Goes Wrong they teamed up with Las Vegas legends Penn & Teller. Last year they filmed their spin off, The Goes Wrong Show which was shown on prime time BBC1 and has been recommissioned for a second series.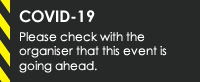 Venue Details
Duchess Theatre
3-5 Catherine Street
London WC2B 5LA
Box Office
0330 333 4810
Nearest tube
Covent Garden
Directions
Map
More info
Website
Dates
Postponed
Times
14.30, 15.00, 19.00, 19.30
Prices
From £22.00
Other notes
Approx 2 hours including interval
Age recommendation: 8+